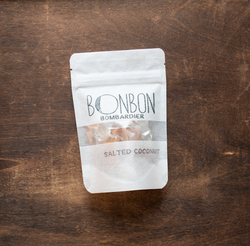 Salted Coconut Caramels (Vegan)
Made by Bonbon Bombardier.
Our most popular confection, and they're vegan! These rich sea salt caramels are made with 100% coconut cream, organic cane sugar, pure maple syrup and flaky sea salt. You'll find them so irresistible that you'll betray everyone you love just to keep your secret stash safe.
Each rice paper bag includes 6-pieces.